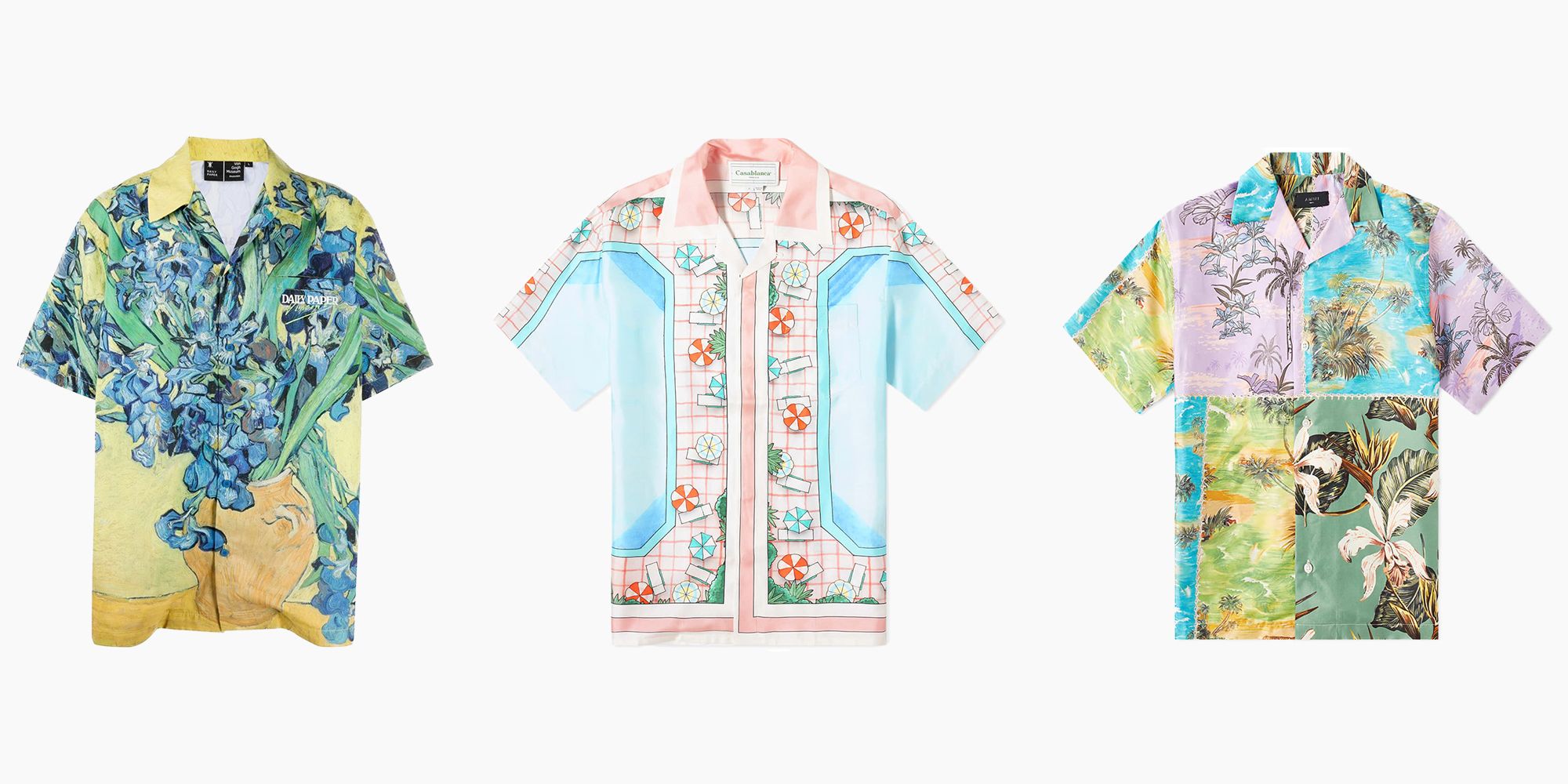 Besides saving the USPS, there is only one thing I care about right now: camp collar shirts. Already popular on the menswear scene, the Hawaiian/cabana shirt hybrid has finally crossed over to the masses. The open collar style, known as a Cuban collar, was born from '50s leisurewear. But in true 2020 form, it's gotten a lot more chaotic. Sure, there are beautiful embroidered knit iterations akin to what Baby's dad wore in Dirty Dancing, but the ones I'm most interested would fit in perfectly in Guy Fieri's closet. And I mean that as a compliment.
Every designer is participating in the trend lending it both high and low appeal. Prada's split shirts are an fashion-crowd favorite, Bode's handmade styles have a cult following, and various streetwear brands' versions have prompted fans to collect them en masse. Camp shirts are the upper body answer to Patagonia baggies, and not safe from being memed. The style's overt tackiness is what makes them so great to experiment with, whether you use them as a beach coverup or introduce them into your WFH uniform. They come in pretty much ever pattern—zebra stripes, patchwork florals, and even a billiards scene. They're nonsense, and we love it. Prepare to be addicted.
1 Tobacco Flag Patchwork Shirt
Bode
bodenewyork.com
$598.00
Bode's latest collection is so good it literally keeps me up at night. Harry Styles, who also keeps me up at night, wore a custom lace style in his 'Watermelon Sugar' video, but I'm flagging this shirt as my current fave. 
2 'Rocket Lobster' Cabana
Tombolo
tombolocompany.com
$128.00
Tombolo's cheeky designs range from terrycloth to a sold-out style adorned with a swirl of spaghetti. Yes to everything this brand does. 
3 Yellow Flowers Van Hajo Shirt
Daily Paper x Van Gogh Museum
dailypaperclothing.com
€145.00
Nothing says «I took Art History 101» quite like this masterpiece.
4 Les Coquillages Satin Shirt
Casablanca
casablancaparis.com
€600.00
If you envision yourself on a yacht in the near future, make sure you pack a Casablanca shirt. No one does silky styles quite like this label. They recently launched womenswear, but there's nothing stopping you from wearing both collections. 
5 Copacabana Silk Shirt
Casablanca
casablancaparis.com
€500.00
Seriously, this brand is so good I'm including two of their shirts. Take a dip in this one.  
6 Hibiscus-Print Cuban-Collar Shirt
Wales Bonner
matchesfashion.com
$480.00
A modern interpretation of the classic Hawaiian print shirt.  
7 Custom Fit Collage Camp Shirt
Polo Ralph Lauren
ralphlauren.com
$168.00
8 '50s Guayabera Short Sleeve Shirt
Urban Outfitters
urbanoutfitters.com
$34.00
This affordable number will make you feel like dirty dancing. 
9 Zebra Print Shirt
Get loud with this wild shirt that just so happens to be on sale.  
10 Hawaiian Patchwork Shirt
If you can't decide on any one aloha print, try them all with Amiri. 
11 Button-Down Shirt
John Elliott
wellunknown.com
$358.00
You deserve more than a pocket full of daisies. 
12 Cotton Print Shirt
Toga Virilis
unionlosangeles.com
$271.00
This shirt reminds us of something the platonic best friend in a '90s teen film would wear. 
13 Pool Hall Shirt
Stussy
stussy.com
$135.00
Perfect for a dive bar—or playing poker online.
14 Camp-Collar Printed Crepe Shirt
Kapital
mrporter.com
$490.00
15 Double Match Cotton Shirt
Prada
prada.com
$1,200.00
We can't talk about camp shirts without including an iconic, split Prada shirt. 
16 Psychedelic Flyer-Print Cotton Shirt
Loewe Paula's Ibiza
matchesfashion.com
$590.00
A shirt that's inspires trippin'—in more ways than one.
17 Couch Surf Crew
Double Rainbouu
doublerainbouu.com
$179.00
Double Rainbouu is known for its zany camp shirts, but we love the brand's new knit direction.
18 Aloeuw Silk Shirt
Pierre Louis Mascia
pierrelouismascia.com
€269.00
A shirt that will make you feel like a sleezy nightclub owner, and you're going to love it. 
19 Open Energy Shirt
Palace
palaceskateboards.com
$128.00
The urge to dress like a snotty 12-year-old boy is growing stronger.
20 Ambush Dekotora Print Shirt
This night scene will make everyone do a double take. 
This content is created and maintained by a third party, and imported onto this page to help users provide their email addresses. You may be able to find more information about this and similar content at piano.io