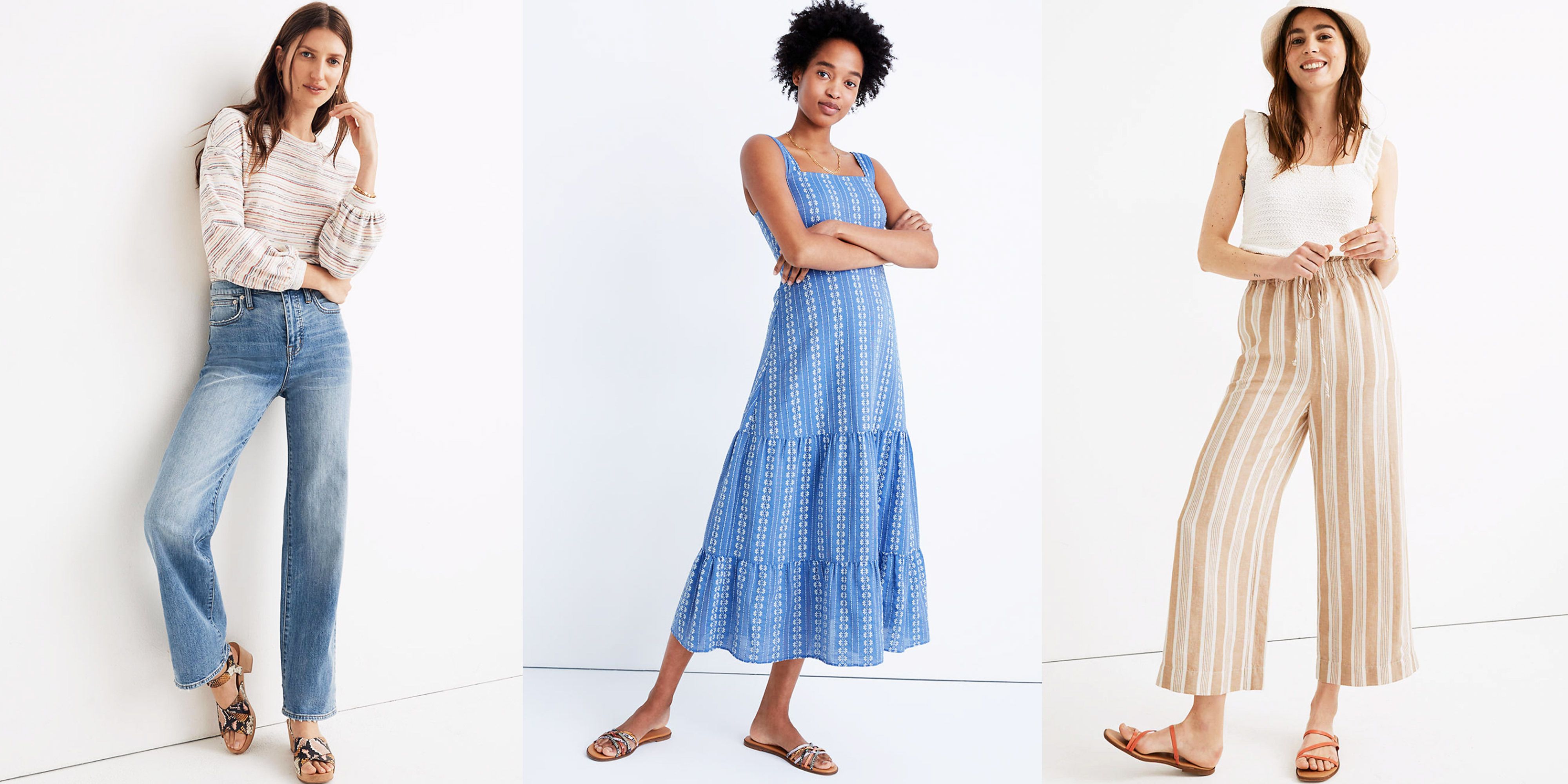 If you need something to get excited about these days, Madewell is hosting its first-ever Secret Stock sale, where you can save up to 70 percent off select clothing, shoes, and accessories. While Madewell regularly has sales on its effortlessly cool wares, I've never seen a sale this big. (And, trust me, I spend a lot of time perusing Madewell's site.) Whether you want to invest in a few Zoom-friendly tops, pick up an elevated pair of drawstring pants, or get dressed up for fun, now's the time to replenish your wardrobe. Go ahead, check out some of our favorite finds, below.
1 Minton Scoop Sweater Tank
Madewell
$59.50
$39.97
Consider this top the best of both worlds: It's as comfortable as your favorite sweater, but will keep you nice and cool during the dog days of summer. 
2 Long-Sleeve Sash-Tie Wrap Top
Madewell
$72.50
$24.97
Looking for a new Zoom top? This bright, cheery style will be a welcomed addition to your video meetings. 
3 Embroidered Button-Back Tiered Sundress
Madewell
$128
$39.97
Let's be real: Even in quarantine, you can never have too many sundresses. Whether you want to feel fancy, give your sweats a rest, or have a go-to nap dress, this tiered number will deliver.
4 Slim Wide-Leg Full-Length Jeans
Madewell
$128
$39.97
Okay, fine, you're not wearing a lot of jeans right now. However, you can buy a pair on sale and have them waiting for you once this is all over. I mean, when's the next time you'll find Madewell jeans for $40? 
5 Smocked Huston Pull-On Crop Pants
Madewell
$79.50
$14.97
…Or, if you're more into drawstring pants, this striped pair is an elevated alternative to sweats. Plus, they're on sale for $15? Casual. 
6 Blondie Cat-Eye Sunglasses
Raen
$175
$122.97
Of course, no summer outfit is complete without a great pair of cat-eye sunnies. 
7 Oversized Ex-Boyfriend Shirt in Mullins Stripe
Madewell
$79.50
$24.97
If you want to show your co-workers how stylish-but-profesh you are, add this boyfriend shirt to your cart. It's great for meetings, and isn't as constricting as your typical workwear. 
8 Denim Claremont Drawstring Jacket
Madewell
$138
$39.97
With a drawstring waistline and collarless silhouette, this bohemian pick gives the typical jean jacket a cool, modern flair. At $100 off the original price it's a no-brainer. 
9 Linen-Cotton Pleat-Sleeve Jumpsuit
Madewell
$135
$49.97
I've said it before and I'll say it again: A jumpsuit is the perfect cross between sweatpants and real clothes. Plus, this tomato red color will turn your WFH look into a look.
10 Wellesley Bobble Pullover Sweater
Madewell
$95
$29.97
If you want to get a head start on your cold weather shopping, this pom-pom sweater is bound to get a lot of compliments.
This content is created and maintained by a third party, and imported onto this page to help users provide their email addresses. You may be able to find more information about this and similar content at piano.io