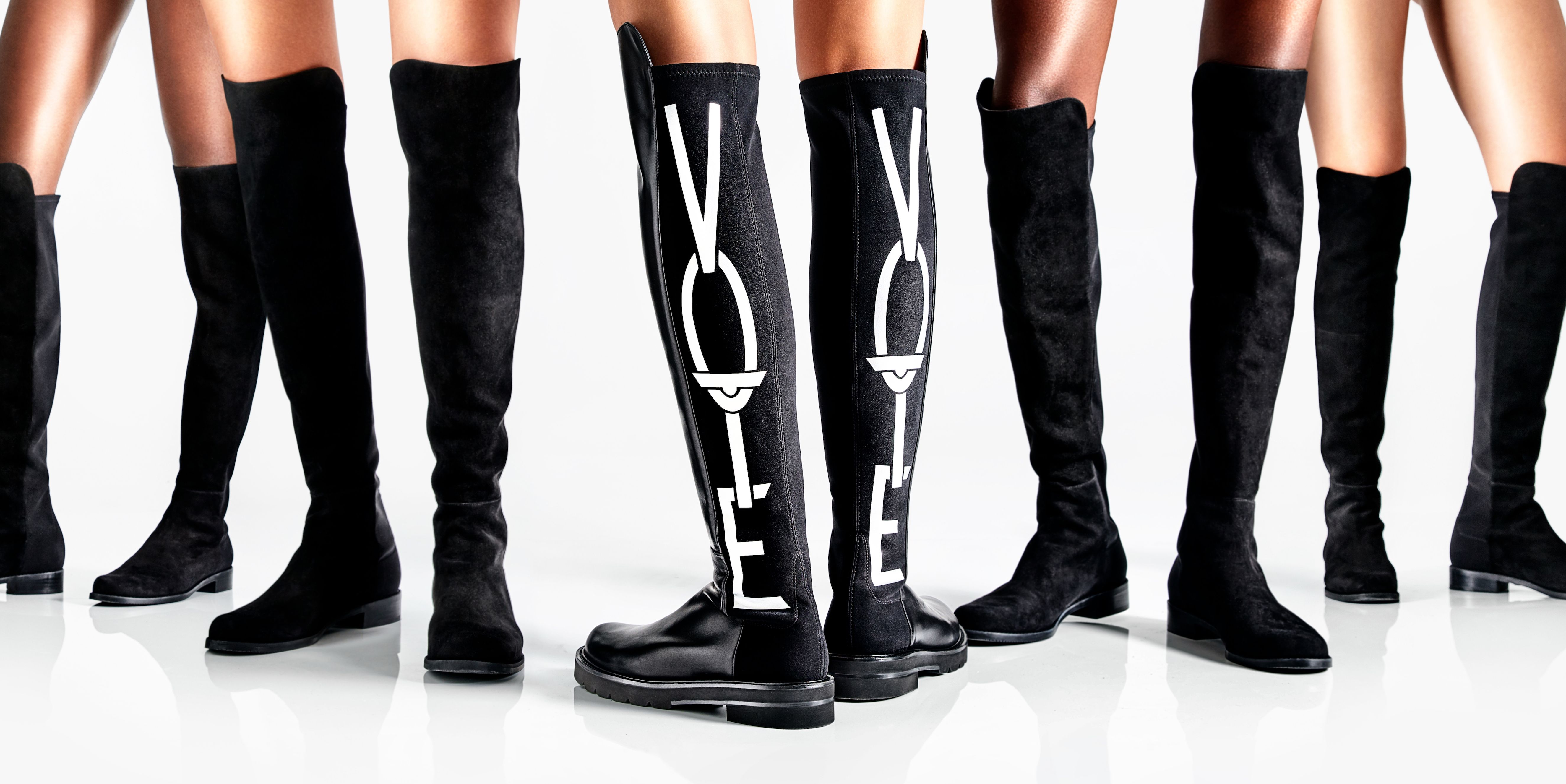 With voter suppression running rampant and threats to the USPS effecting mail-in turnout, it is more important than ever to make your voice heard. But beyond showing up to the polls on November 3rd (or voting early!), you can help encourage people to vote by, well, shopping. Brands like Stuart Weitzman, Levi's, and more are launching merch that actively encourages everyone to make their vote count. Proceeds from their products will be funneled directly to causes including Black Lives Matter, nonprofits that aim to close the voting gap, and more organizations that will make a difference. Read on to see where to effectively cast your dollars—with Lizzo's approval, no less—here.
1 The 50/50 Vote Boot
Stuart Weitzman
stuartweitzman.com
$695.00
Stuart Weitzman's 5050 boots are iconic, so the brand is using its OTK platform to urge you to vote. Act fast, because only 100 pairs were made, with 100 percent of net profits donated to the nonprofit nonpartisan organization I am a voter.  
2 When We All Vote x Brother Vellies Canvassing Sneakers
brothervellies.com
$95.00
Aurora James has been busy. Between kickstarting the 15 Percent Pledge and helming her footwear brand Brother Vellies, she also partnered with Keds for a pair of «canvassing» sneakers that promote voter registration. They are donating 100 percent of this purchase to When We All Vote, a nonpartisan nonprofit that aims to close the voter gap and fights for fair, safe, and accessible voting for all Americans. 
3 Read Think Vote Socks
Out of Print
outofprint.com
$12.00
Out of Print wants you to stay educated with their graphic socks. Portions from each sale will go to PEN America and their Free Speech 2020 campaign.
4 The Modern VOTE
For every tee sold, KULE will donate $20 to When We All Vote. There are also some really cute matching socks. 
5 I am a Voter Short Sleeve
Lingua Franca
linguafranca.nyc
$285.00
Tell it like it is in cashmere with Lingua Franca, who's been making statement sweaters for years. $50 from each sweater sold will be donated to I am a voter. 
6 Men's Blank Fleece Hoodie
Join Hailey Beiber, Oge Egbuonu, and Levi's in their mission to get people to the polls.  The denim brand launched an initiative encouraging everyone to use their voice, in addition to the brand's collective donation of $2.6 million, toward multiple voting rights organizations.
7 Phenomenal Voter
Phenomenal Woman
phenomenalwoman.us
$55.00
One hundred percent Black and brown-owned and women led, Phenomenal Women is a brand to love. Activism is the backbone of the label. Backed by celebs galore, Phenomenal Woman raises awareness for social causes and donates to a wide range of nonprofit organizations. 
8 Every Vote Matters
Behind the Design:
birdies.com
$165.00
Voting looks so much cuter in comfy flats. Made in partnership with creative studio Leftys Right Mind, these limited-edition flats run alongside Birdies pledge of $10,000 to Step Up, which promotes efforts to empower and educate young women.
9 This Is Our Time Customizable T-Shirt
American Eagle
ae.com
$24.95
Make your voice heard with American Eagle's actionable tee, which encourages you to fill in the blank. One hundred percent of proceeds from your purchase will benefit HeadCount, a nonprofit that promotes voter registration. 
10 Callie Boot
Naturalizer x The Outrage
naturalizer.com
$150.00
Naturalizer partnered with The Outrage for a boot you can wear to the polls and to a protest. Portions of this sale will benefit the nonpartisan nonprofit She Should Run. 
11 The Original Spaced Out Letter Necklace
By Chari
bychari.com
$315.00
Follow in Michelle Obama's footsteps and customize a By Chari necklace to read 'VOTE,' which she wore during her speech at the DNC. 
12 VOTE Earrings
Nyakio Grieco x Maya Brenner
mayabrenner.com
$230.00
Maya Brenner teamed up with beauty guru Nyakio Grieco for their Unity collection, where 50 percent of the proceeds go to organizations that amplify, celebrate, and support Black voices. 
13 I Am A Voter Baby Girl Tee
Also, Freedom
alsofreedom.com
$73.00
Twenty percent of proceeds go to I am a voter when you buy this fitted tee. 
14 Change is coming! Medallion
Dru Jewelry
drujewelry.com
$1,455.00
Enact change in 14k gold. Portions of the sales of this necklace will be donated to the ACLU and their work to end voter suppression and advocate for policies that make it easier for Americans to vote. 
15 Speak Out Mask
Quay Australia
quayaustralia.com
$10.00
What Lizzo says, we do. And it feels good, because 100% of your purchase from these masks will go directly to the NAACP Legal Defense Fund. 
This content is created and maintained by a third party, and imported onto this page to help users provide their email addresses. You may be able to find more information about this and similar content at piano.io